We're starting the month of May off with a bombshell of a product with 2022 Bowman Baseball hitting the hands of sellers and hobby shops everywhere today. This one is all about rookies and prospects, making it one of the more celebrated releases of the year. You know we have to talk about it.
What to Expect:
Cards per pack: 10
Packs per box: 24
Boxes per case: 12
Base Set
Bowman Baseball features two separate base sets. First, there is the 100-card standard set, which highlights the rookies and veterans of the MLB in 12 different parallels, including the 1/1 Platinum parallels and the 1/1 Printing Plates.
Here you can hunt the highly coveted Wander Franco rookie card, or snag one of baseball's biggest veteran stars like Vlad Guerrero Jr and Fernando Tatis.
Next, the 150-card prospect set features some of the up-and-comers who look to make their appearance in the show in the near future. As for big names, Kahlil Watson (SS, Miami Marlins), Curtis Mead (3B/1B, Tampa Bay Rays), George Valera (OF, Cleveland Guardians), and Elly de la Cruz (SS, Cincinnati Reds) are the four you're looking for.
Of course, that's all subject to change. Part of the fun with Bowman Baseball is that sometimes prospects light the world on fire out of nowhere. A meh pull now might turn out to be a huge hit in two years.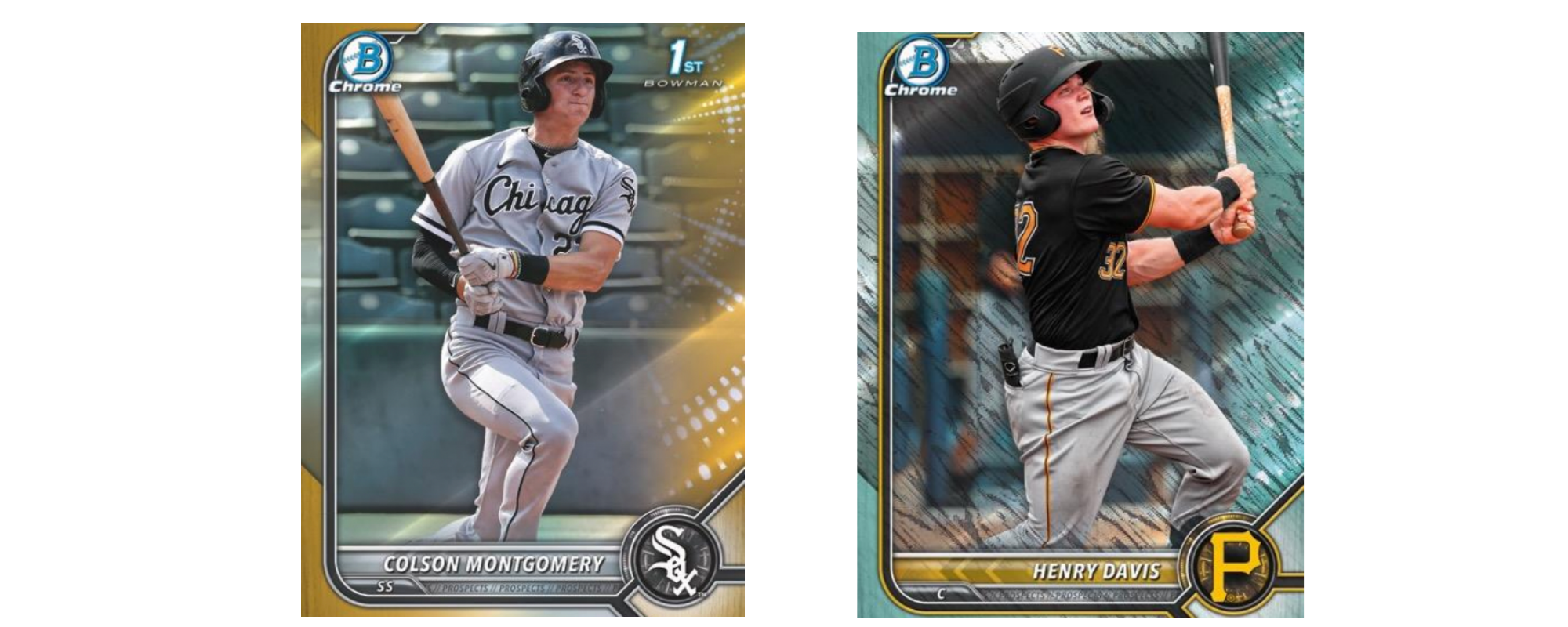 Inserts
While everyone's definitely chasing 1sts, 2022 Bowman Baseball has some new inserts that add a dash of creativity to accompany the base sets.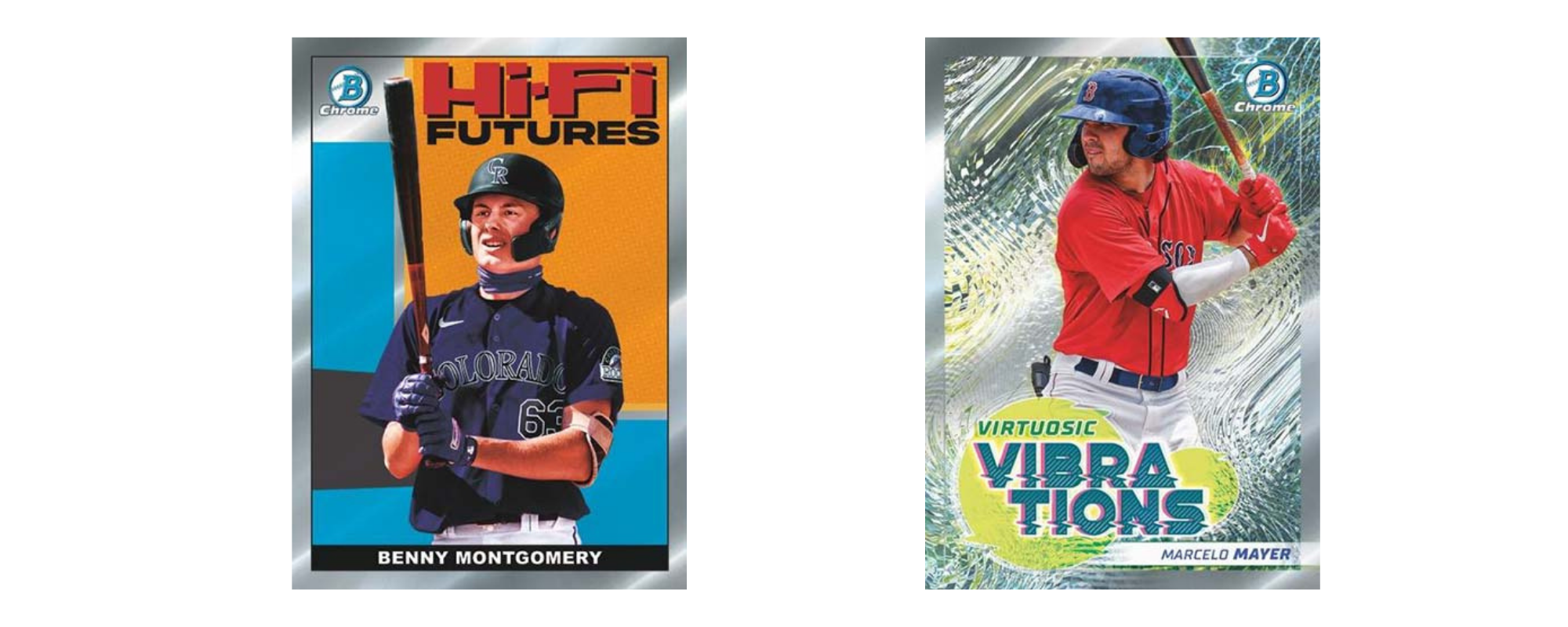 Bowman in 3-D and 2022 Bowman Invicta, Hi-Fi Futures, and Virtuosic Vibrations all make their Bowman debut with fresh look designs.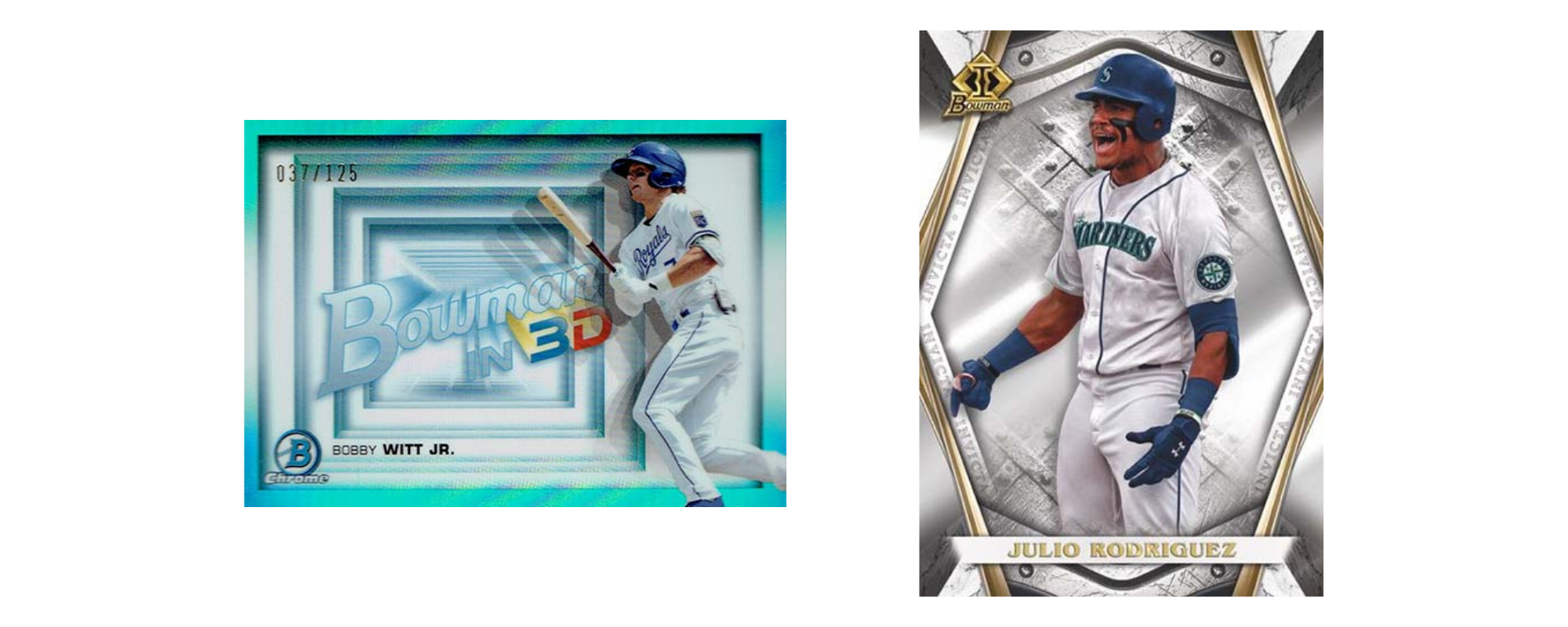 Bowman Scouts' Top 100 and Rookie of the Year Favorites return with a couple of new parallels, including the new Aqua Refractor parallel and the hobby exclusive Orange Border parallel.
Autographs
Despite only receiving a guaranteed 1 autograph card in every box, the number of ways to pull one is quite deep. Some of our inserts mentioned previously also have their own versions with signatures like Virtuosic Vibrations Autographs, Bowman in 3-D Autographs, Bowman Invicta Autographs, and Bowman Scouts' Top-100 Autographs.
But there is more! Chrome Prospect Autographs and Chrome Rookie Autographs return with a few hobby exclusive parallels.
Dual Bowman Prospects Autographs features a duo of signatures. 2022 Bowman Ultimate Autograph Book Card features 1 of 10 prospects in each book.
And finally, All-American Game Autographs and Bowman Buyback Autographs will also be potential signature inserts to snag.
---
Alright, Loupers — it's all on you now! Sellers will have a bunch of Bowman Baseball on hand throughout the day, so be sure to take a swing on the app. And if you land that big hit, don't forget to share that with us so we can celebrate with you as you circle the bases!